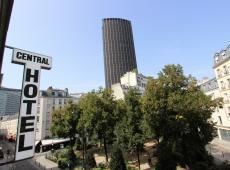 LOCATION
The Montparnasse district, which is located south of the Seine River, was the heart of the intellectual and artistic life in Paris in the 1930's, and painters, writers, philosophers and poets would gather in the numerous cafes and restaurants in the area, many of which are still in business today. The Central Hotel sits in the heart of this lively and typically Parisian district.
Read More
Less
Located on a quiet street and overlooking a charming little square, our hotel is an ideal base for visitors looking for an authentic Paris base. With Montparnasse main railway station, Air France shuttle, Metro and bus lines nearby it could not be easier to explore the city.
As part of the protection of the environment, we advise you to use ecological transport, that is to say:
* Public transport,
* Cycling, (ask our receptionists about Vélib'),
* Scooters or electric cars.
* There are also carpooling and carsharing sites.